Personal Pack
40 Tablets | $25.00
Blowfish has one job: fix your hangover. In the morning, just drop the tablets in water and drink when the fizzing stops. It's lemon-flavored with a nice "Wow. I'm not dying anymore" finish. The formula is backed by science, FDA-recognized and guaranteed to start to make you feel better in 15 minutes.

Party Box
25 x 2 Tablets | $60.00
Be the life of the day-after-the-party with the Party Box. Contains 50 tablets in 25 individually-packaged envelopes packed in a handsome display. Great for wedding gift bags, tailgates, corporate events or anytime you want to be the party MVP.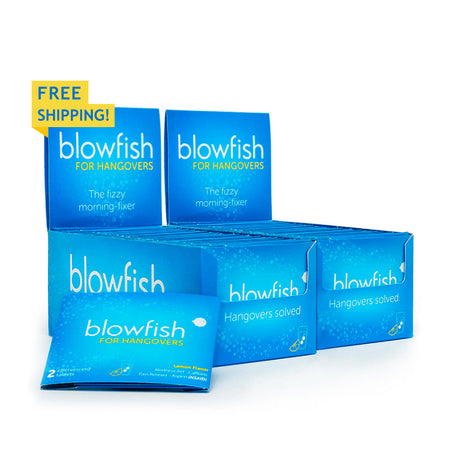 Double Party Box
50 x 2 Tablets | $100.00
Behold the Blowfish Double Party Box. A lot like the Party Box, except times two! 100 tablets in 50 individually packaged envelopes. The formulation is guaranteed. Party-wide gratitude? Very likely.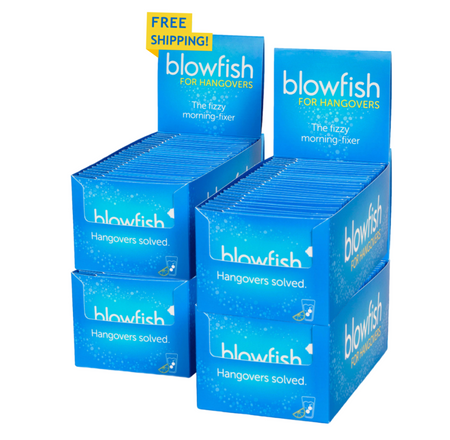 Quadruple Party Box
100 x 2 Tablets | $185.00
Weighing in at 100 individual doses, the Quad is a must-have for tailgates, weddings, alcohol soaked corporate events—basically any time a lot of people are having a lot of fun. If you're going to deliver a night to remember, least you can do is help everyone survive the next day.
Our Hangover-Free Guarantee
Blowfish is a treatment that really works. If you don't love it, we'll give you your money back. But we're pretty sure you're gonna thank us.
What are Hungover People Saying?
If you're in any condition to read right now, we encourage you to check out what real-live hungover humans have to say about our product.
Skip to content